Humans of Seven Lakes: Michael Amico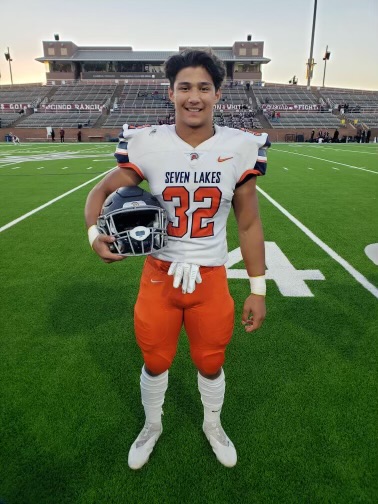 Q: When did you start playing football?
A: I started playing tackle football in 3rd grade, and I've been playing ever since in club football. I started school football in 7th grade. 
Q: What got you interested in football? 
A: My dad used to play football when he was younger. He played in high school and he wanted me to be an athlete, so it was my first sport he introduced me to. I  just really stuck with it all the way through. 
Q: How have you changed or improved over the years?
A: A lot of it has been position changes, like I used to play linebacker as well as defense. Now I play running back, which is kind of a change but I love playing offence. 
Q: Are you where you want to be now as far as skill?
A: If I was where I wanted to be now I don't think I would be quite good enough, but you always want to strive for that next best thing, so I never feel like I'm going to be good enough.It's just constant improvement, always trying to be better than I am. 
Q: What's your favorite game you've ever played in?
A: Well for this year, I would say probably the Taylor or Mayde Creek game. Those were really fun.
Q: What are your favorite parts of football games?
A: I would say my favorite parts are just hanging out with the team, like hanging out before the game, hanging out after games celebrating big wins, and then the momentum swings through the game so many emotions that go on. It's just like being with your teammates really helps build up comradery and  it's great. 
Q: How was your last game?
A: Last game was a great game, 7 is greater than 5 and we beat Cinco. 
Q: Do you have any other interests other than football? 
A: Other than football, I am also in wrestling, I'm the captain  of the team.  After football is over I go into wrestling and then hopefully go to state with someone and place. Outside of school I also do jujitsu. I've been doing Brazilian jiu jitsu since 3rd grade, around the same time I started football, and I've carried that with me ever since. 
Q: What are some of your best qualities? 
A: My best quality, I would say, is I feel like I am really hard working. I would say I'm not the most talented in everything I do, but I feel like I can out work a lot of talent. And then I feel like I am a very dependable person. People can trust me to do what I say I will on and off the field whether it's getting stuff done for school or with other people on the field and being trusted to do my job as a runner or a blocker.
About the Writer
Annika Patel, Staff Writer
Annika Patel is a sophomore, and this is her first year being a part of the Torch. She is excited to learn more about the students at Seven Lakes High School. She is also very eager to share the students' opinions and interests on the Torch. In the future,...