The Spartan Journeyman
Sophomore Nathan Johnson's Rise to the Top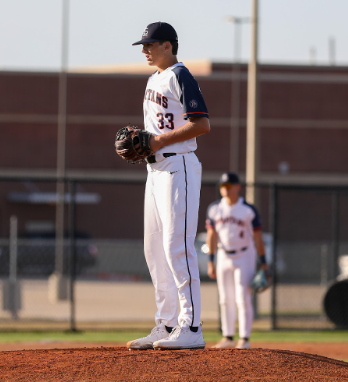 Last season, then-freshman Nathan Johnson played a big role on the baseball team, leading them through the district as one of the team's top players. Johnson made a name for himself as a freshman joining the varsity team, becoming an absolute stud on the diamond offensively and defensively. This year, he continues to compete with his team on the state level and rise to any occasion throughout the season.
Johnson is a one of a kind, two-way player who can hit and pitch, similar to MLB superstar Shohei Ohtani. At 6 feet 4 inches tall, he is an absolute beast on the field. Johnson has played the game of baseball for a long time, and soon D1 college scouts will start finding interest in his incredible talent. He's improved a lot since last season, and has honed his craft a lot throughout the offseason. 
"During the off-season I would always go to the batting cages five times a week and workout with my trainer three or four times a week on weight training to get quicker and stronger," Johnson said. "Getting closer to the season starting, I would go to the field and start my throwing program, which consists of long toss and a bullpen session, where I would get my arm velocity up for the season.
Getting picked to be on varsity for Johnson was a very big deal. As the only freshmen on that team, he strived to keep a positive mindset even through tough times because being one of the younger guys in the team usually isn't easy. 
"Every player on the field respected me and would help me if I ever needed it," Johnson said, "I made sure to put in as much work as I could so when my name was called I was ready."
Throughout every practice in the offseason, Johnson has made improvements with his two way tools. Last year he was the number two starting pitcher behind the now-senior Lawson Moreno. Johnson and Moreno played a big part last year in the team's starting rotation during the regular season. Together they had a combined eleven wins during the season and got the team to playoffs with a 20-12 record. 
"Me and Lawson have always been tight ever since I stepped onto the field with him," Johnson said. "He has impacted me in such a positive way as a teammate because he always gave me advice whenever I needed it and encouraged me to be my best even through failure."
For Johnson's work on the plate, he also develops power and contact into his mix of hitting. Since Johnson was a two-way player he would be hitting most of the time, but still got plenty of appearances on the mound and at the plate.  He would always work on his swing throughout the season, but had a few struggles. However he came in clutch with one homerun, twenty-three RBIs, sixteen runs, and consistently got on base when it mattered most. 
"Most of the guys on the team who were older would throw harder than I was used to," Johnson said. "I had to get used to failure to move on to the next pitch or the next at bat."
Johnson's season with the team is just underway and many of his teammates and supporters expect a huge season for him, as well as the team winning and going into the playoffs once again. His improvement throughout last year and the offseason will definitely pay off during their run for districts and State.
"My goals for this season is to hit for at least a .350 batting average and pitch with a sub 2 ERA," Johnson said. "As for the team, our overall goal is to make a deep run in playoffs and play with energy and passion."
About the Writer
Nico Gendrop, Staff Writer
Nico Gendrop is a senior and is entering his second year in the SLHS Press and is ready to enjoy his last year of high school. He is also part of Seven Lakes Marching Band and plays the trumpet. He is a lifetime fan of the Los Angeles Dodgers and many...