The Battery of Sparta
Drumline Rocking Out Spring Edition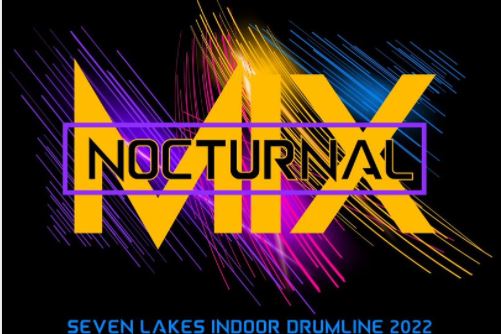 The loudest section of Seven Lakes Band needs no introduction: drumline is one of the most energetic hype groups in the school. Drumline can always be found at football games, pep rallies, and State send-offs. However, this group of people does not just bring the school spirit but also the energy necessary to win big games and enjoy every moment. 
Earlier this year, the percussion group worked on their TCGC Percussion show titled Nocturnal Mix. Their show takes place in a city where you can feel the street vibes in the beginning of the performance, then goes to the club to dance and have a blast. Percussion director Allen Vinson helped put this show together,  from the music, to the choreo.
"The biggest challenge was trying to create a better experience than last year's show," Vinson said. "We ended up being really, really successful at it really quickly which is always difficult to come back to."
With Vinson putting this show together, the drumline have all put their hearts into each rehearsal, piecing every single piece of their show together to create a grand masterpiece. With not just the help of the drumline, but the front ensemble and cymbals their music has been able to get their audience to fully engage the energy of their music and show.
"The students have a great culture of working really, really hard and wanting to make something really, really good just because it's a lot of time commitment," Vinson said. "You feel good when you do something at a high level, so I just wanted to keep working on that as always."
Drumline's show last year, Bring the Heat, involved more angry energy in the choreo and music, and for it being the first time participating in WGI for percussion, their performance had great success. However, most of their competitions that year were virtual due to COVID, but this year they have been able to have more engaging performances and rehearsals. 
"Last year we did Nelly, It's Getting Hot in Here, and a bunch of us weren't sold on the idea at first,"  senior bass drummer Liam Lewis said., "We questioned how this was going to work [but] it paid off in a big way."
The same mixed feelings occurred during this year's show. The first rehearsals for the drumline this year were long due to countless trials of the music and choreography. The season also goes by much faster than marching season, and there was no time for the percussion to waste at all. Luckily though, as the season progressed, the percussion show got better and better.
"After the final show I was super proud of all the hard work that we have put into this show," junior front ensemble Abby Patton said. "I was also so proud of my section because we have all grown as better musicians and have become more like a family."
For percussion, this is the second year they have participated in their TCGC Percussion Competition and their first time to go to the State competition, placing fifth in their final showing. Their success this year is by far the best one yet. First, going to State with the band, to now being one of the top five high school drumlines in the State.
The future of the Seven Lakes percussion is going to go far and beyond for this school. Not only will they continue to perform during the marching season or the indoor competition, but will continue to inspire the Spartan Spirit in students.
About the Writer
Nicolas Gendrop, Staff Writer
Nico Gendrop is a senior and is entering his second year in the SLHS Press and is ready to enjoy his last year of high school. He is also part of Seven Lakes Marching Band and plays the trumpet. He is a lifetime fan of the Los Angeles Dodgers and many...