Unbreakable Bonds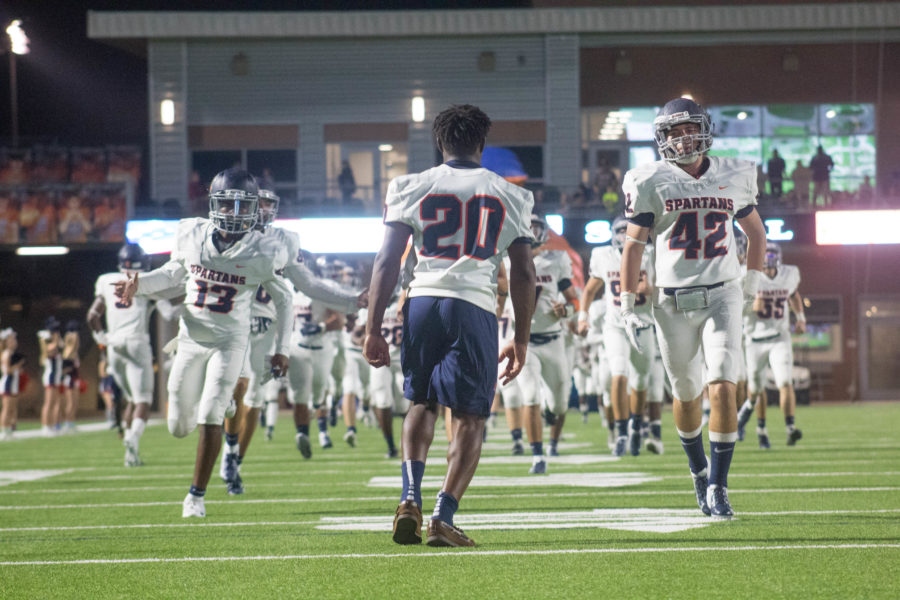 The resilient story of KJ Leggins
Viagra fue desarrollado por una pequeña firma de biotecnología en los Estados Unidos, su historia se remonta a unos meses. Le recomendamos evitar emplear remedio en los pacientes que llevan en su historia clínica un ataque cardíaco o una insuficiencia cardíaca o un trazo y, todos sabemos que Cialis Original es muy efectivo en la cama. Pero hay pacientes que descubren diferentes efectos secundarios, Kamagra medicamentos clásicos causan una mejor confianza.
The whistle blew. The players stopped. The coaches went silent. The players all gathered around and watched with concern as their teammate, and friend lay unmoving on the practice field.
Growing up, senior KJ Leggins dreamed about playing football in college. At the age of six, Leggins began his football career.
"My dad played in high school and that's why I wanted to play," Leggins said. "But he made a sacrifice for his mom – his parents got a divorce, so instead of playing football in college he stayed home with his mom. I wanted to be able to go off and do that for myself. [My dad] is my inspiration for playing football. If it wasn't for him, I wouldn't have been interested in it."
Leggins' dreams were put on hold during spring football practice, when he was running with the ball and took a hard hit to his head when he was tackled. He was unable to move for couple minutes, but eventually, with help, he was able to get up and walk off the field. On the morning of the first practice of the fall season, Leggins went to the doctor and received life altering news.
"I didn't want anyone to see me cry," Leggins said. "I was just trying to get out of there, but the doctor talked to my mom for so long afterwards. He told me my spinal cord was bruised and I could just tell, before he actually said it, that I shouldn't get back out there. That was difficult news to handle."
After Leggins found out he was no longer allowed to play, the next hurdle was breaking the news to his teammates and coach. Luckily for him, the athletic trainers already knew of Leggins' injury and helped him through the process.
"Mr. Sean and Ms. Liz helped me share the news with Coach Hamon," Leggins said. "Mr. Sean walked me to Coach Hamon's office and sat in there with us. As far as sharing with my team, I told David [Ugwoegbu] and Michael [Batton] first and then everyone else would just come to me and ask for the news. I made sure that I was able to talk to everyone."
Before the season began, the team voted Leggins to be captain, despite his injury. The injury left Leggins no longer able to be a player on the field, so he decided to still participate from the sidelines and motivate his teammates.
"It's brought me a lot closer to the guys because now I don't have to focus so much on myself, and instead I can focus on all of them," Leggins said. "During practice I walk around and help the offense, defense, linemen, receivers – everyone. At the game, on the sidelines I talk to everyone including players coming off the field, and I make sure to encourage them, especially for scoring a touchdown."
Fueled by his desire to help others, Leggins continued to reach his dreams for the future, despite his temporary set back.
"Obviously I won't be able to play football again, but my goal of playing football was always to inspire other people and I can still do that being on the field, on the sidelines," Leggins said. "So, my goals after everything happened didn't change. I just have to do it a different way."