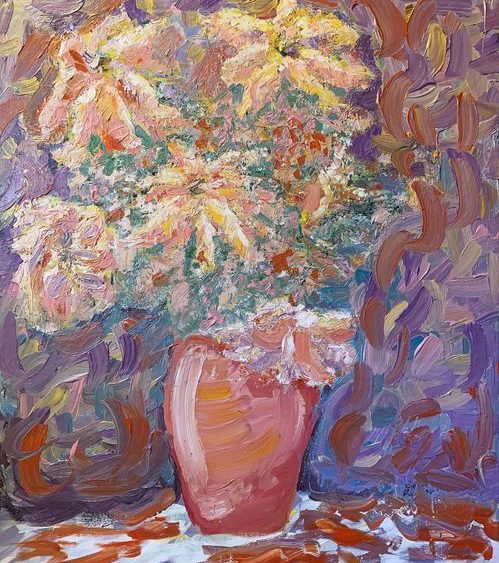 Photo provided by Annie Liu
The Starry Night. Mona Lisa. Girl with a Pearl Earring. These are the names of some of the most remarkable pieces of artwork produced throughout history by some of the most remarkable artists. Every one of these people had a unique story and sharpness in their minds that captivated millions as soon as their brushes touched paper. Here at Seven Lakes, Senior Annie Liu is a flourishing artist whose creative journey has shaped her into who she is today.
Without much thought, Liu stepped into her first art class at elementary school and soon realized the imaginative door she opened up. Among the wave of teachers in her life, she found inspiration and a connection with one in particular – Mr. Weng.
"He's really helped me grow as a person," Liu said. "He understands how I process with art, so he always encouraged me, [reminding] to not constrict yourself to [one] thing."
Diverse art mediums can tell a wide range of stories, evoking emotions from bitterness to joy. Liu's pages are filled up by tales of acrylics, oil paints, inks, and graphite.
"My favorite would probably be acrylics because you get to mix the paint, and then because it's watery, you can really use  brush strokes to have different forms of how you can draw," Liu said. "So it's more fluid than just pencils or colored pencils because that's very stiff, and you can't really play around with it as much."
Liu enjoys incorporating unique and conceptual designs in a way that feels true to her self expression and vision. This is portrayed in an acrylic painting she holds as her favorite called "A Woman in a Purple Hat."
"The picture itself shows a person sitting in a chair, but I played around with it and added a lot of different colors," Liu said. "Then [I] tried to incorporate some Cubism and different styles to really make the piece very different from its original picture."
Additionally, Liu is no stranger to a plethora of achievements garnered via competitions. A huge accomplishment was winning a Gold Key, the highest award in the Scholastic Art and Writing Awards. Her success in this prestigious event motivated her to keep achieving these recognitions each year.  She got help from her art teacher at school, Mrs. Matschek, and took this project very seriously.
"In my freshman year I entered a piece [where] there was focus on this woman who was in poverty," Liu said. "It was black and white and very emotional; I spent a lot of time on it because it was one of my first very realistic graphite pieces."
New cities are often draped in cultural tapestries, showing the unique humanity of a place. On almost every trip, Liu loves venturing into local art galleries that do exactly this. Her favorite so far has been the MET (The Metropolitan Museum of Art) in New York City. This  is just one of the many ways she picks out inspiration throughout her daily life. 
"I like taking pictures of anything I see, especially when I go on vacation to different cities, so [I] have anything I find that might be used as a resource for later on," Liu said. "And then when I think about what I want to draw, I just scroll through my camera roll, [discover] old photos, and try to find something that can be developed from that picture."
In the end, Liu does not have to look far and wide to retell her definition of art. She has been uncovering it for years, while simultaneously uncovering an evergreen passion. 
 "Art- whatever  suits your own visual aesthetic," Liu said.